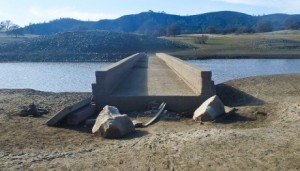 Last week I talked about Mormon Island and a bit about the area, but didn't get a chance to share what I've learned about some of the other little mining camps that were in the area during the Gold Rush.
Negro Bar was one of those mining camps, and one of the first Black gold mining sites in California, but unlike Mormon Island, Negro Bar was nothing but shacks and tents clustered together to provide shelter to the men who worked alongside the river. Negro Bar was located about four miles below Mormon Island.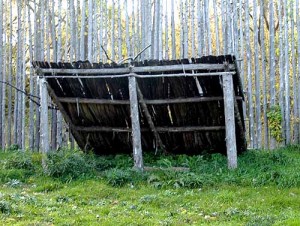 A miner by the name of James Meredith supplied Negro Bar with a general store followed by a hotel. Back then, a store could have consisted of a plank laid over two barrels, a tent, or something known as a lean-to that consisted of a few shelves. As far as the hotel goes, it was probably a large dormitory with bunks stacked against the wall. Anything could be considered a hotel as long as it provided shelter for large numbers of men. The mining was good and according to the local paper of the time, earned each miner about $2.00 a day.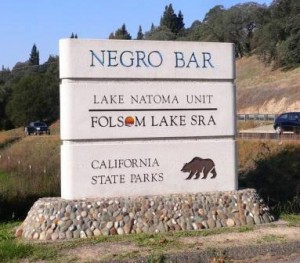 Today Negro Bar lies under Lake Natoma with only the name and the Negro Bar State Park reminding us of the place where gold was first mined by African American Miners from 1849 to 1852.
Prairie City was another mining camp that grew quite quickly, especially when the Natoma Water and Mining Company started supplying badly needed water to the surrounding areas in 1853. Now that the miners had water, they began to stake their claims along the canal owned by the Natoma Company. Those mines produced quite a bit of gold paying around $5.00 a day.
By 1856, Prairie City had outgrown Granite City, which was renamed Folsom that same year. Prairie City had a population of around 2000 men who had come down from the Sierras. The mostly male population of miners were looking for a safe place where they could stake their claim. Prairie City provided them with cheaper provisions and a safe haven, as they didn't have to deal with the winter snow and the spring thaw that dogged the Sierra Nevadas.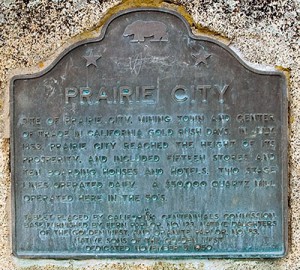 Before Folsom had built a school, children who lived in what used to be known as Granite City went to Prairie City for classes. In fact, in 1853, Prairie City was the primary polling place for the Township of Prairie. When the Granite Township became a reality in 1856, Prairie City was still a precinct up until the fall election in 1864. However, by the time Election Day rolled around in 1865, all of the Prairie City gold had been worked out and the town was abandoned.
Today, the only reminder that Prairie City ever existed is a monument marking the place where the town square once stood.